About us
Defensya is a technology based company that worships innovation, design, art of inventing and making things right. Research and development are the key elements of our business.
We are specialized in all aspects of a vision system, Defensya we have developed and manufactured items such as video monitors, management systems, image, audio and data (including compression, decompression, encryption, decryption and storing all that information for multiple channels synchronously), lighting (LED and laser-based high power) and cameras.
In Defensya we have proved experience in the development of electrical and electronic software. We have conducted projects in fields like aerospace, Defence, monitoring and control of industrial processes, electronic design, acquisition and signal processing, sensors and embedded systems, and we have made or are making at this moment developments in areas such as scadas, data analysis, security, cryptography, neural networks, learning systems, artificial intelligence, etc.
We have registered more than twenty patents, some of them flying actually in aircrafts like the A330MRTT tanker for which we designed the current vision system. Nowadays we have developed a 3rd generation vision system that improves the previous version solving many current problems.
We are a company dedicated to develop and sell technology products and to supervise the work of other engineering companies, properly auditing their work and results.
Our clients include the Spanish Defence Department and companies like Airbus Defence&Space.
Services
Defensya offers knowledge engineering, information technology and imagination to provide generation services able to turn their ideas into reality.
The Defensya engineering consortium is divided into three pillars: Electronics, Mechanics and Optics (Optitech Defensya). Each of which is dedicated to specifically meet the needs of Defence, Aviation and Industrial sectors.
Quality
Defensya understands that the development of our activity suggest the adoption of management procedures to ensure the quality, safety and environmental friendliness. That's why we have management systems certified by reputable organizations that endorse our actions in matters of quality management according to ISO:9001 and according to the EN:9100 Aerospace Quality Management.
Expansion
Defensya has made a major commitment to extend its geographical location and remove borders, providing technological solutions worldwide. We have representatives in Spain, France, Colombia and USA.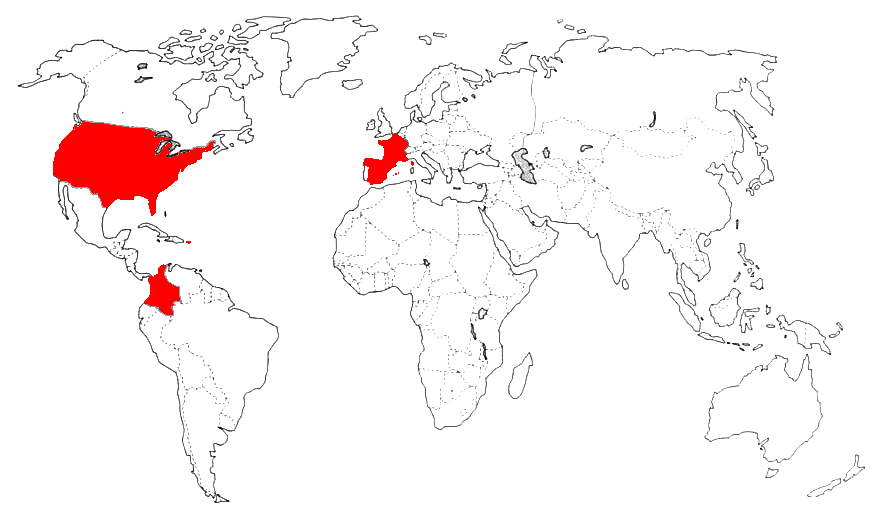 Defensya participates in ARSAG'16

From April 17th to 22nd Defensya wll be at Jacksonville (Florida) for the next celebration oF the ARSAG INTERNATIONAL (Aerial Refueling Systems Advisory Group).
Defensya opens a new subsidiary in Puerto Rico.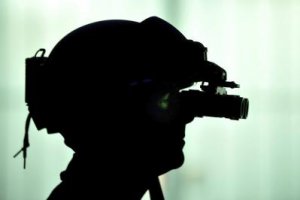 Defensya, the spanish aerospace company specializing in vision systems for military and commercial aircrafts and supplier for Airbus, will open a new branch in Puerto Rico before the end of the year.
Cameras with ability to see colors with very low light.
Falcon Eye Defensya and have reached an agreement for the distribution of night vision products.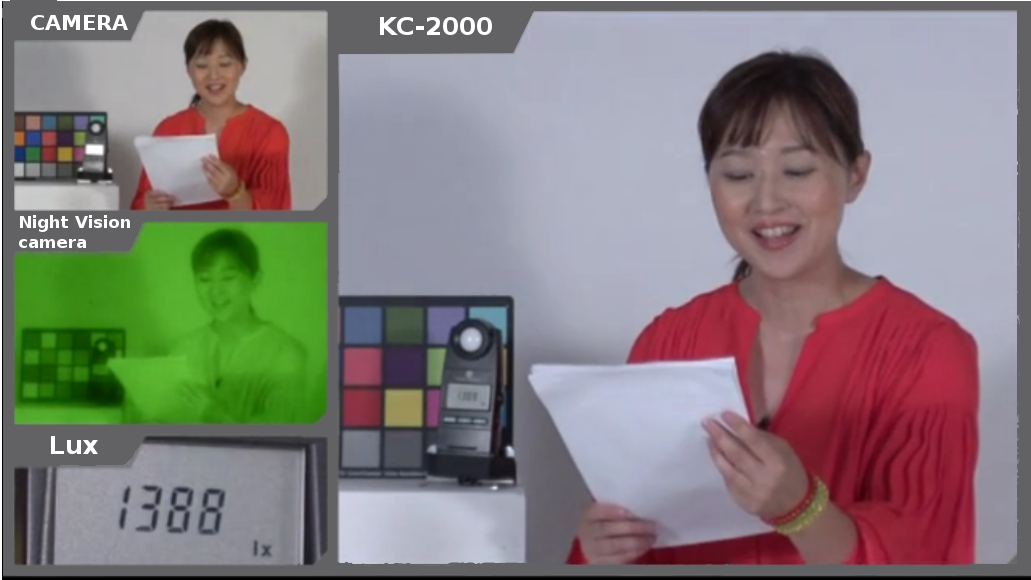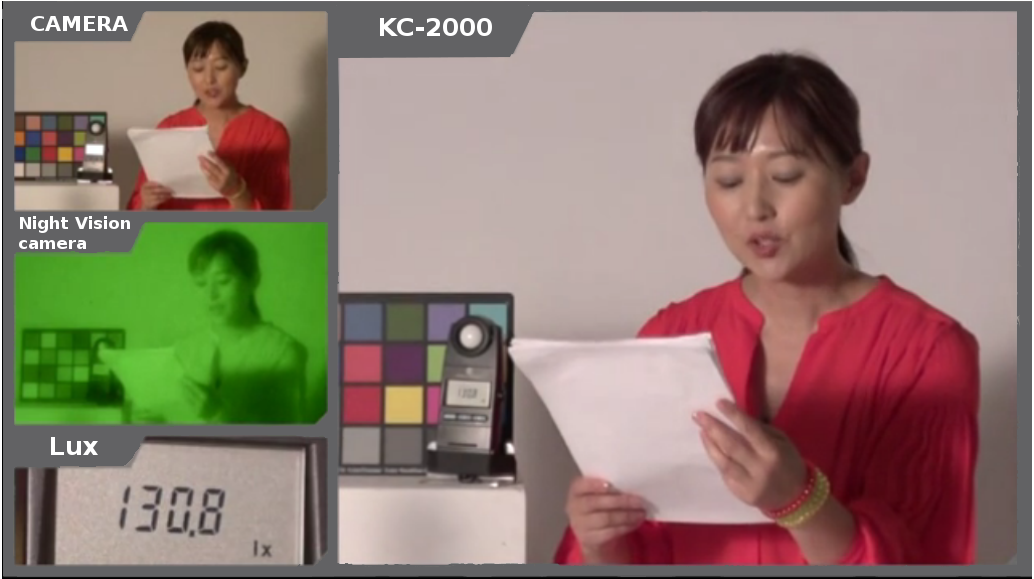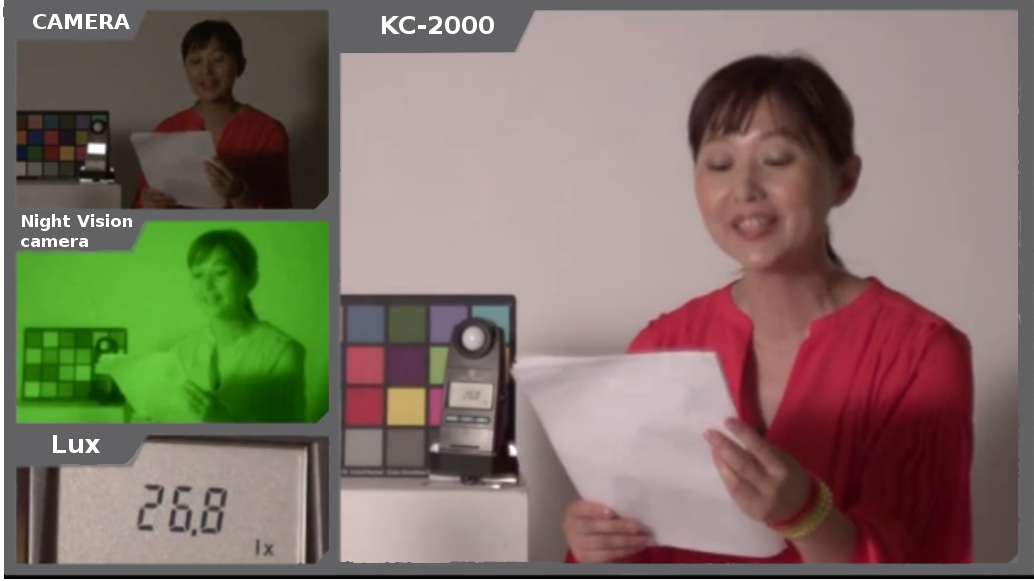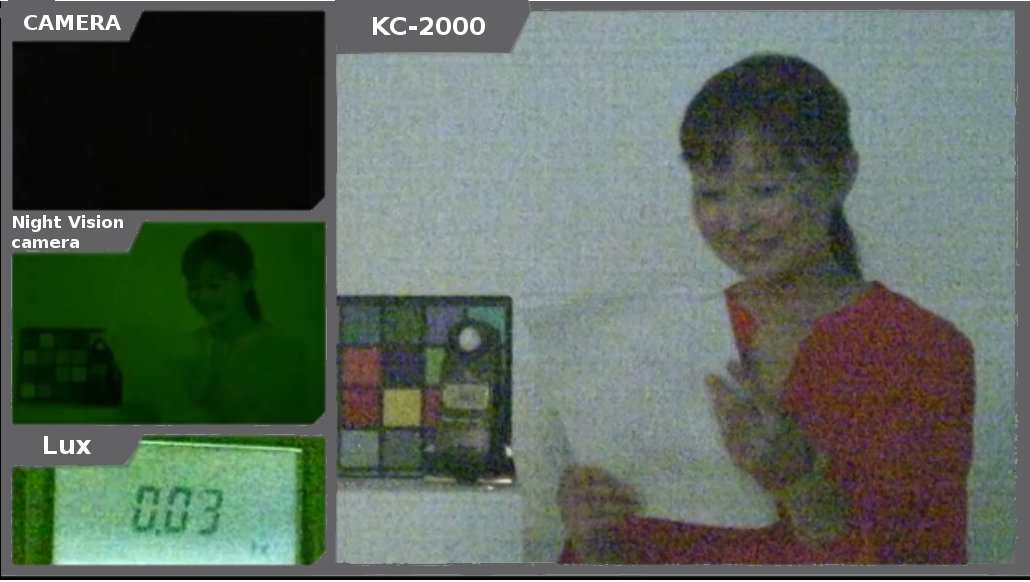 Defensya and Falcon Eye have reached an agreement to distribute their Night Vision products.
The japanese company Falcon Eye, noted for their cameras with the ability to see colors in conditions of very low luminosity (up to 0,05 Lux), has granted to Defensya the exclusive distribution of his products in Spain.
Defensya signs an agreement with the European University of Madrid.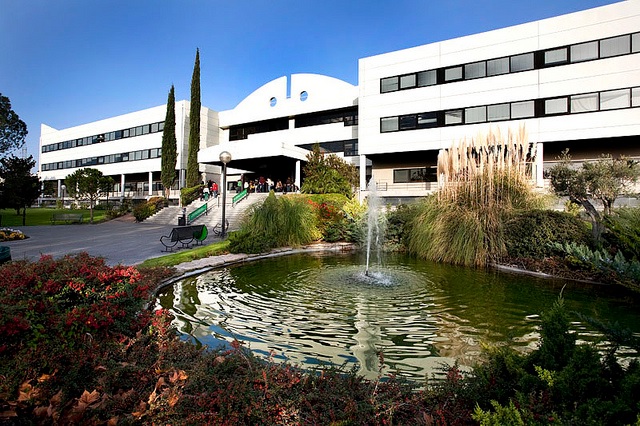 Defensya will provide 10 units of their vision system (includes compression, encryption and video recording within autonomous modules) to the University to work on the applications development.
The University will allocate a permanent classroom to develop applications based on his signal processing video, audio and data system. Additionally applications to improve the ergonomics of the human-machine interface will also be developed.
In the coming months Defensya will also create a competition among developers of the classroom to reward the best works in those areas.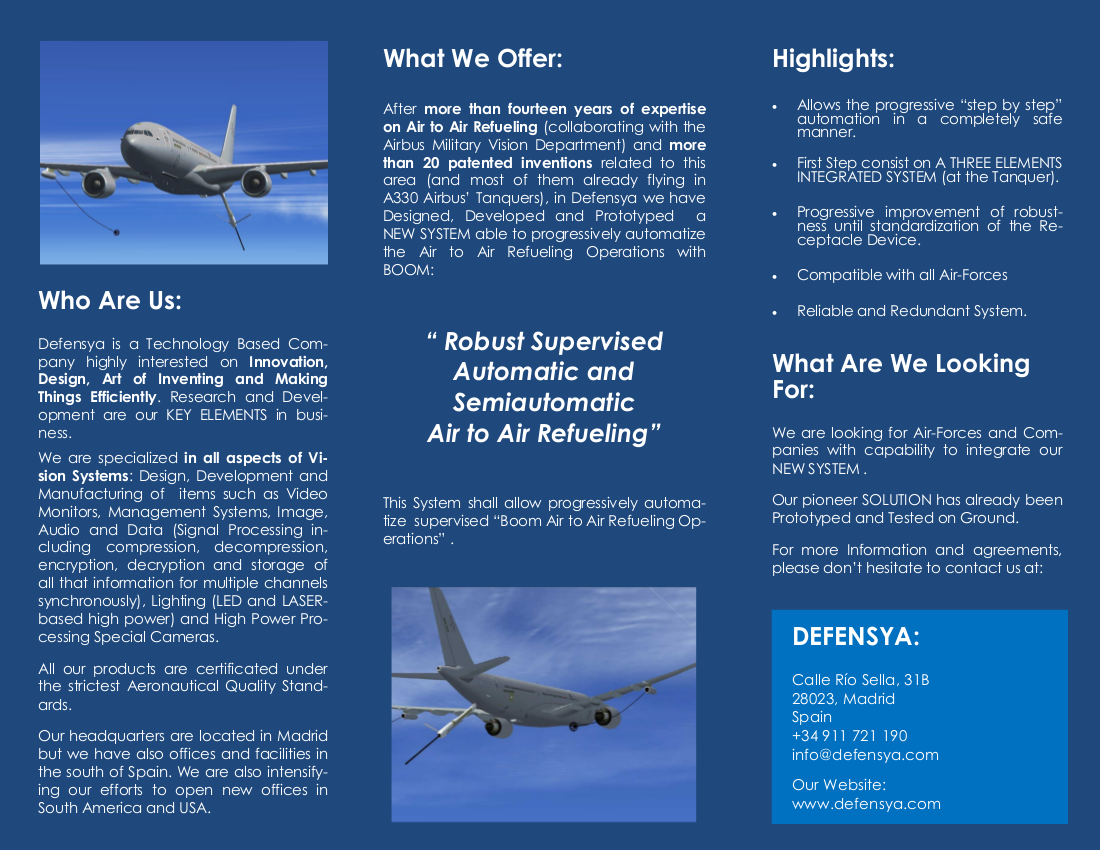 Defence
Defensya has a team of highly qualified specialists to handle any type of project focused on the Defence sector. After over twenty years of experience in this sector, our results support the efficacy of our company.
Our capabilities allow us to carry out projects related to electronics, electromechanical and optical fields. Our more than twenty patents demonstrate our innovative capability in solving the problems of our customers.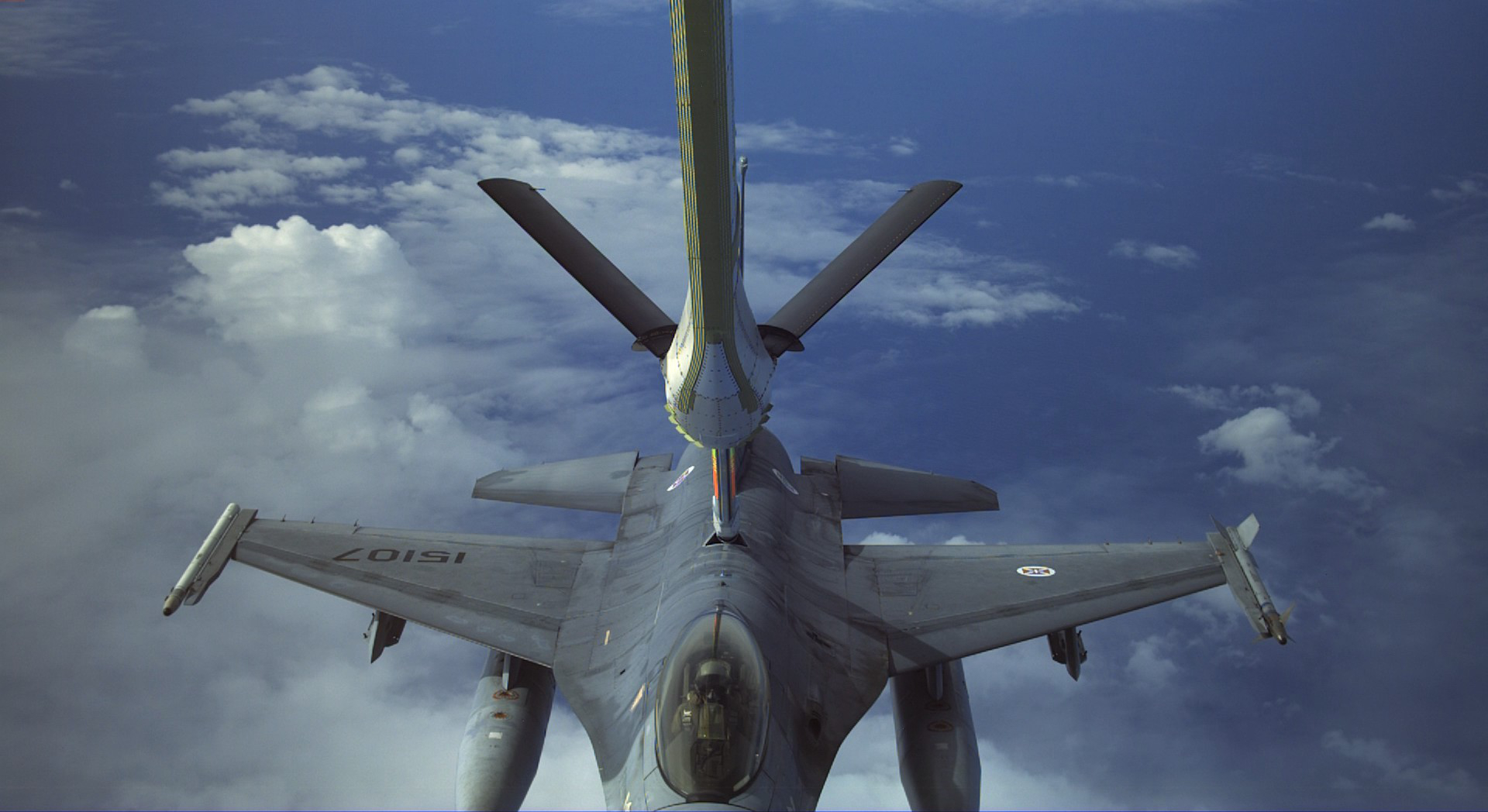 Aerospace
In Defensya design, develop and manufacture devices and systems for the aviation sector. It is electronic, optical and mechanical systems to provide solutions to specific problems within this sector.
Defensya transforms technology concepts, services and solutions designed to meet the needs of each client.
In order to obtain results of the highest quality, we work with companies that help us and audited in the manufacture of the final products. In collaboration with Mesurex Aeronautics we offer a specific and dedicate range of products and services in the aeronautical sector.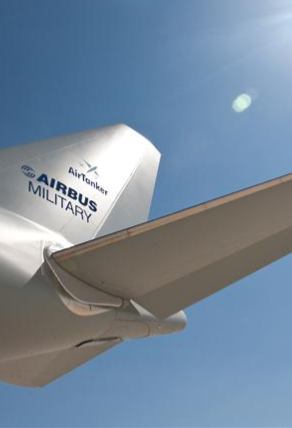 Optics
In search of the development of intelligent solutions, Defensya has acquired its own optical equipment, thanks to the acquisition of an optical company.
Defensya manufactures components for military, aerospace and scientific sectors as well as optoelectronic industry. Additional services include the analysis and processing of materials, design, re-engineering, R&D studies, set-up, machining and polishing a wide range of materials such as glass, glasses, ceramics and certain metals.
We are specialized in quartz working, essential in many tasks where high temperature conditions the use thereof. From a single piece or a prototype to a small or medium series, Defensya adapts specifically to the requirements of each client.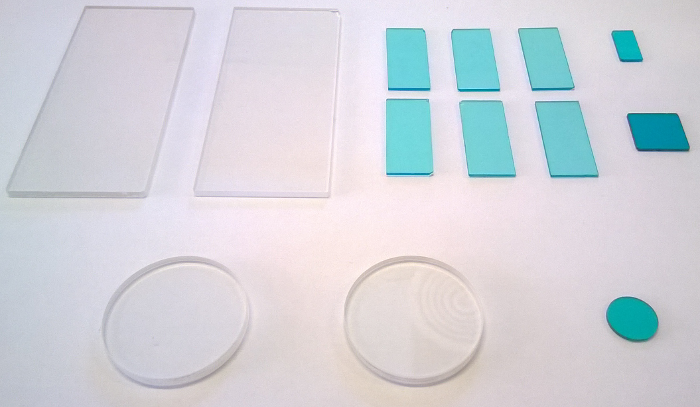 Products
• Lenses
• Prisms
• Polarizers
• Microscope objectives
• Mirrors
• Optical windows
• Diffusers
• Beam splitters
• Retroreflectors
• Quartz components
• Filters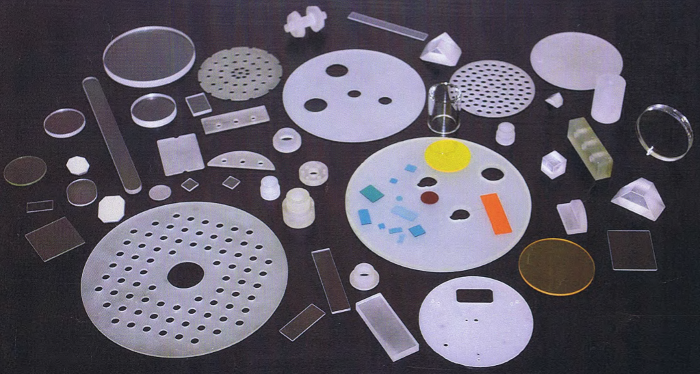 3D manufacturing
At Defensya we have the last 3D manufacturing systems. We have available manufacturing machines using laser sintering of aluminum parts, steel, titanium, chrome-cobalt and others of different qualities. We also have several manufacturing machines to make prototypes in different plastic materials, sizes and features.
Our design team is at your disposal for any need you may have in this field, our own facilities allow us a more efficiently design and manufacturing.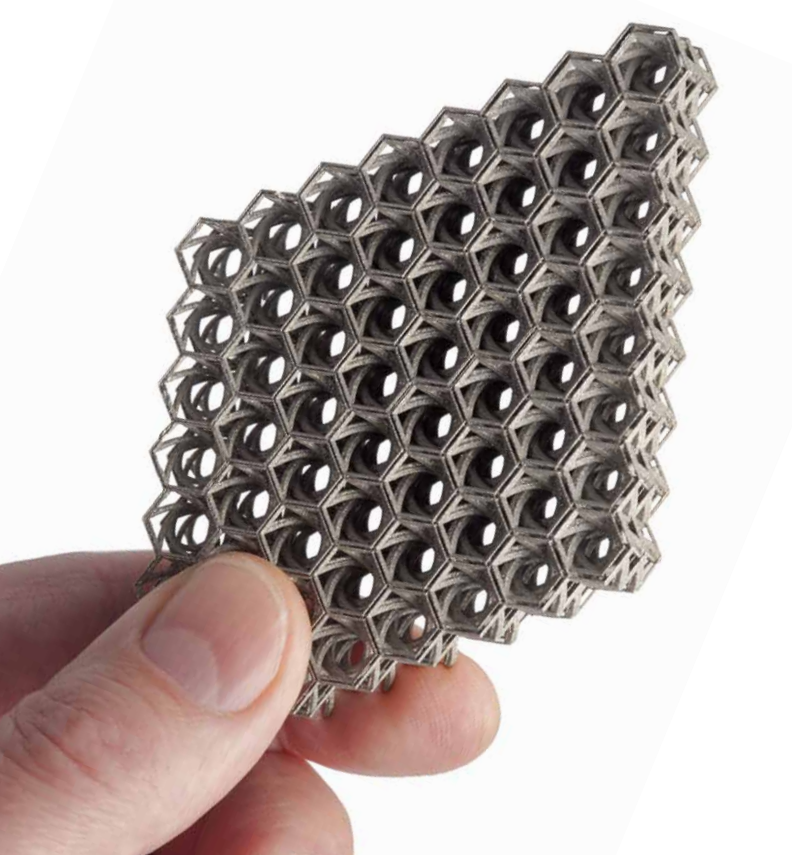 Healthcare
Within the healthcare sector, we would bring the following solutions:
• Supply prosthetics: The ability of our company to
manufacture titanium parts
and other sanitary materials
by laser sintering
allow us to face this market with the best credentials.
• Engineering solutions to specific problems: This is an analysis of specific problems in the healthcare area and our experience to find technical solutions to them.
• Electronic Devices: Our knowledge of electronics, electro-optics locate us in a good position to meet the design and manufacture of these devices
to meet the needs of this sector
.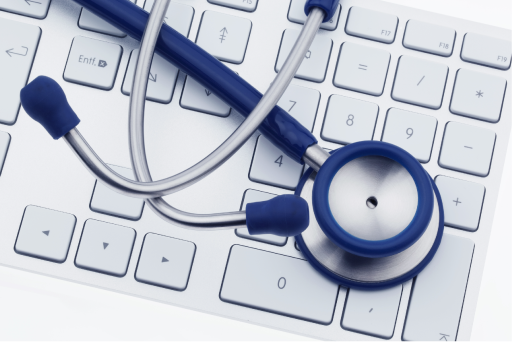 Clients
In this section you can access to your services as a Defensya customer.
Please login.
Contact
Head office | C/ Río Sella 31 B | 28023 Madrid | info@defensya.com